By Chris Lee
Owner, Leemark Communications
Originally published online in 1999
Last updated: August 21, 2020
Early on August 24th, 1970, a van loaded with six barrels of explosives blew up just outside the East Wing of Sterling Hall at the University of Wisconsin campus in Madison. The bombing was carried out by four men in protest of America's involvement in the Vietnam War.
The bombing was directed against the Mathematics Research Center, a U.S.-Army-funded facility, which was located in the East Wing of Sterling Hall along with the physics and astronomy departments. "Army Math," as it was known, was despised by many antiwar activists who felt the center was contributing to the death and destruction in Southeast Asia through its research. They felt it had no place on a public university campus.
Ironically, the department hardest hit by the blast was not the MRC but physics, many of whose faculty were against the war. A 33-year-old physics researcher named Robert Fassnacht was one of those working late when the blast went off. He was killed in the explosion, and four others in Sterling Hall were injured. Years of research work was destroyed. In addition, at least one patient was injured by flying glass in University Hospital, which at the time was located across the street.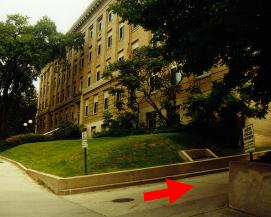 At least 26 buildings on the campus alone were damaged in the bombing, which was heard more than 20 miles away. The explosive used was ammonium nitrate and fuel oil (ANFO), the same type that would be used in the 1995 bombing of the federal building in Oklahoma City.
Less than a week and a half after the act, the FBI had pieced together what happened and put four men on its most wanted list: 23-year-old Karleton Armstrong and his 19-year-old brother Dwight, from Madison, 18-year-old David Fine, from Wilmington, Delaware, and 22-year-old Leo Burt, from Havertown, Pennsylvania. Fine and Burt were both students at Wisconsin. Karl had been an on-again, off-again student in previous years. The Armstrongs and Fine were eventually caught, convicted and served time in prison. Leo Burt has never been found.
The Sterling Hall bombing is still a painful memory for many in Madison. A number of buildings are scarred from the bombing or other antiwar unrest during the '60s.
For many years, there was no physical public memorial to Robert Fassnacht's death, either in Sterling Hall or on the campus. However, in 2001, a number of plaques were installed at UW-Madison to recall the history of the campus. One plaque, located between Bascom Hall and Birge Hall, is titled "Reform and Revolt" and mentions the Sterling Hall bombing and notes that "the explosion killed a Physics researcher."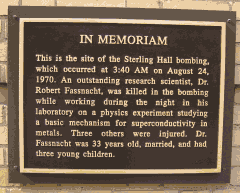 Then, on May 18, 2007, a plaque was dedicated in memory of the bombing and Fassnacht's death. It is located on the outside wall of Sterling Hall, near where the van exploded, and says:
IN MEMORIAM
This is the site of the Sterling Hall bombing, which occurred at 3:40 AM on August 24, 1970. An outstanding research scientist, Dr. Robert Fassnacht, was killed in the bombing while working during the night in his laboratory on a physics experiment studying a basic mechanism for superconductivity in metals. Three others were injured. Dr. Fassnacht was 33 years old, married, and had three young children.
Fassnacht's twin daughters attended the dedication.
Despite the Sterling Hall bombing's far-reaching effects, a number of people today, especially younger people, don't even know it happened. What's more, many of those involved in the event and its aftermath have died during the succeeding years, leaving fewer sources to tell the story.
"The Bombing of Sterling Hall" documentary can be viewed below:
"The Bombing of Sterling Hall" documentary
This 27-minute video was produced in 1998 by Leemark Communications owner Christopher Lee as his graduate project in broadcast journalism at the University of Illinois at Urbana-Champaign. Video copyright © 1998 Christopher Lee.