Author's note: In October 2017, Airways Magazine published an article that I wrote entitled "Dane County Regional Airport: A Capital Airport Thriving Amid Madison, Wisconsin's Strong Economy." I wrote a few paragraphs about aviation attractions near Madison, which did not make it into the published article, so I've decided to include that part here for those who are interested.
Please note that due to the COVID-19 pandemic, the following attractions may be closed or have limitations in effect, so please check in advance before visiting any. Enjoy!
Airplane enthusiasts who visit Madison, Wisconsin, can find a number of aviation sites within a two-hour drive. Here are a few to get you started:
If you enjoy plane spotting at Dane County Regional Airport, and if aircraft are landing from the north onto runway 18, a car-friendly spot to watch is the Veterans of Foreign Wars Post 8483. It's not super close — about 4,000 feet from the runway and a bit east of the approach — but the grounds have two military jets on display: a Marines F-4S Phantom II and a Wisconsin Air National Guard T-33. VFW Post 8483 is at 5737 County Highway CV in Madison. Food and drink are available for purchase in the VFW building.
A Boeing C-97G Stratofreighter sits on the front lawn of the Don Q Inn hotel just north of Dodgeville, about a one-hour drive west of Madison. The double-deck C-97G is the military version of the Boeing 377 Stratocruiser. The aircraft on display starred in a 1970s Lincoln Mercury car commercial along with "Charlie's Angels" star Farrah Fawcett. The fascinating story of how the plane was acquired by the Don Q Inn and landed on a 2,700-by-30-foot runway can be seen in a PBS Wisconsin "University Place" video at pbswisconsin.org/watch/university-place/university-place-landing-c-97g-dodgeville/. The aircraft is located at 3658 State Hwy. 23 North, Dodgeville, Wisconsin.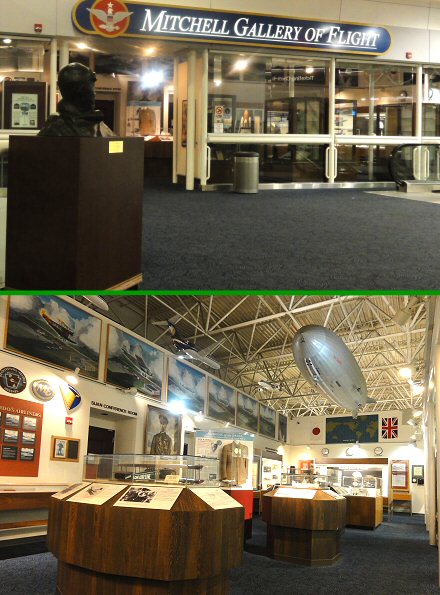 The Mitchell Gallery of Flight is located on the upper level of the General Mitchell International Airport (MKE) terminal in Milwaukee, near concourse C. This one-room, free museum features aircraft models including a Graf Zeppelin II airship next to a same-scale Boeing 757, a 1/5 scale model SUD SE-210 Caravelle cockpit, and numerous photos, paintings and articles. The gallery's Web site is www.mitchellgallery.org.
Undoubtedly Wisconsin's biggest aviation attraction is the Experimental Aircraft Association in Oshkosh, a one-and-a-half hour drive northeast of Madison. The EAA's famed AirVenture fly-in and convention is normally held the last week in July and is billed as the "World's Greatest Aviation Celebration." In addition, the EAA Museum is open year-round except for some holidays. The large museum and convention grounds are located just off U.S. Hwy. 41 on the south side of Oshkosh. More information can be found at www.eaa.org/en/eaa-museum and www.eaa.org/en/airventure.
Happy flying!